Feet Finder: How to earn Money? Or it is Scam!
Feet Finder is actually a platform where people sell and buy images of feet. Most women join this platform to earn a side hustle by selling their photos of their feet to customers. This Platform is growing quite rapidly and has become a popular website in the United States of America. Many people are earning a good amount of dollars through this platform by selling their feet images.
In this article, we are going to tell you all the details about this platform and also how you can join this platform and earn money online.
How to Join a Feet Finder?
The joining process of the Feet Finder is quite simple. This website is operating in some countries of the world. America, Australia, and some European countries have allowed this website to operate in their countries. Whether you are a buyer or seller on a Feds Finder website, the joining process is quite simple.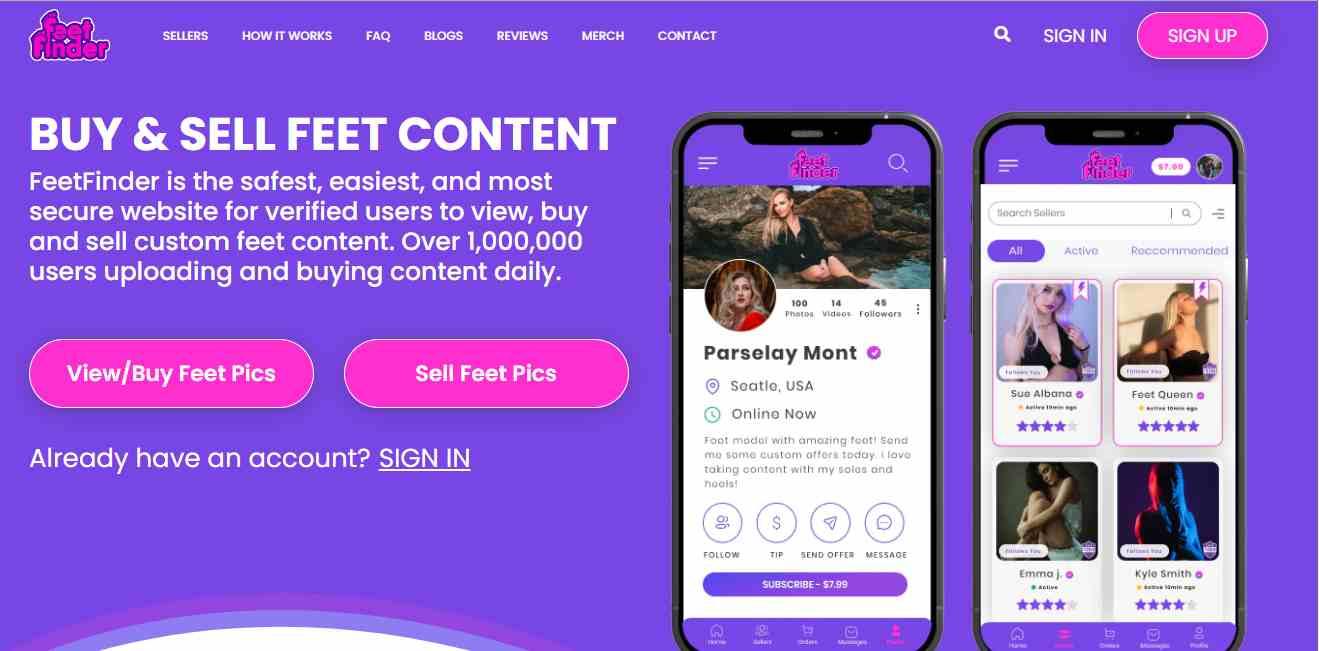 Image source: Feetfinder.com
You just need to follow the steps that I am going to discuss below;
First of all, go to the official website of Feet Finder. Now search for the Sign-Up option on the website.
After clicking on the Sign-Up option, you will see an Email, Name, and Password section. You need to fill out this form. After that, your account will be registered.
You need to verify your email account through an email sent by this website.
Now, go back to the Login option and click on it. After that, enter your email and password.
For your account verification, you have to follow another procedure.
You need to upload the front and back images of your National ID card. And also have to give your live image to this website. This verification is to check whether you are 18 years old or not because this website is not for kids or boys under 18 years old.
After complete verification, you are able to create your profile as a buyer or seller on this website. This is all done just because there is no illegal activity or scam on this website. You should not worry because your information is safe with this platform.
How to make money from Feet Finder?
The money-making way of this website is to sell photos of your feet. For this, you need to first make an account on this website. The whole process about making signing in to the account has been described above in the article. You can get help from there. To make money, you need to follow the steps that I am going to describe below;
To make money, you need to make a seller profile on a website. For that purpose, You need to provide all necessary details about yourself, like your proper name, age, ID card number, ID verification, and email address. After complete verification, your seller account is verified. You have to pay a small amount in dollars to create your place in the market.
Upload the images of Feet.
After successfully making your seller account, you have to upload a high-quality image of your feet. Remember you post the images of feet from various angles. To attract the customer, you may apply nail polish and other cosmetic-related stuff. Take images from High-Quality cameras or mobile phones that have excellent Picture Quality. The images are your asset for making a handsome amount from this platform. So, make sure you take aesthetic and classic photos of your feet.
You also need to set the amount upon which you want to sell your images. The minimum amount for selling an image is $5. The more high quality and beautiful your image is, the more money you can earn from this platform.
Now, if a customer contacts you to buy your images, deal with him with great manners. Try to persuade in a professional manner to buy your feet 'images. Make him your permanent client and sell photos for a lifetime to earn a side hustle from this platform.
Which People Buy from Feet Finder?
Many people search for images of their feet to buy. This platform is exactly for those people. They can see thousands of people, especially those selling their images of feet, on this website. Most such people are of different categories looking for foot images for various purposes.
1. For Nail Polish Advertisements:
Most of the people who are looking to buy photos are for business purposes. They want the images to be shot and used for their brand promotion. The brand is usually nail polish. The people from this nail polish brand look for the best images to promote their brand to the next level. So, feet images on Feet finder websites are beautiful and attract such customers.
2. Shoe Industry Brands:
People from different shoe brands also search for beautiful feet images that they can use for the ad purposes of their brand. They can pay the image seller a good amount for taking their images for the promotion of their shoe brand.
Most of the time, men's and women's foot images are required for such brands. They want to sell their slippers, flats, loafers, high heels, and many other types of shoes. The same is the case for men's feet images because brands can contact them to use their feet images to sell shoes, joggers, loafers, casual shoes, etc.
Is it Legal to Use a Feet Finder?
Yes, it is completely legal to sell photos of your feet in the USA. If we talk about other countries, there are no such laws or restrictions on selling images of the feet. It means it is legal to sell the photos of the feet.
Social Media Interaction:
The website has its official accounts on different social media platforms. You can interact with the website from those platforms and can also get information about this website from these social media sites.
FAQs
Q. What is the payment system of the feet finder?
The website pays the seller after getting the amount from the buyer. The seller gets its payment after a cut of 20% commission on the website. The seller can get his amount transferred to his bank account.
Q. Is it necessary to show my face on this website to sell photos?
No, it is not necessary to show your face on the platform for selling your feet images. Your personal data like ID card Images, selfies, email addresses, contact numbers, and other information is only visible to the website officials.
They do not share this data because of the privacy policy of the company. So, if you are worried about revealing your face to sell your photos, you are completely fine and can sell images without showing your face on the Feet Finder website.
Q. Can males also make a seller account for selling their feet images?
Yes, boys and men can also sell photos of their feet on this platform. Different brands, like the shoe industry brands, want the feet image of men to sell and promote their brand on different platforms. They look for such images to attract customers to their shoe brand.
However, women's feet images on the Feet Finder website are hot selling. Usually, people go for their feet to attract customers of nail polish, shoes, flats, high heels, and other women's shoe categories.
Q. How much money can I make from this platform?
You can earn a lot of money from this website. But it totally depends on you whether you earn more money or less. It depends on your profile settings, your images, and the promotion of your images on websites. If you put high-quality images of your feet from various angles that can attract customers, then you can earn a good amount from this platform.
Here are a few tips to earn money from this platform;
Post High-Quality images of your feet. Avoid using any filters and editing the images.
Take good care of your feet and regularly do a pedicure of your feet to keep them refreshing and charming for the photos.
Use an aesthetic angle while capturing the photos. This will help you to attract good customers to the Feet Finder website.
Take photos from various viewing angles to provide a 360 view of your feet.
Do a little promotion by sharing your profile and image link on social media platforms.
Video source: Youtube
Q. Are there any charges for making a buyer or seller account on this website?
There are charges for seller account registration on this website. While for the buyer account, you just need to be 18 years old to purchase any image from this website.
Q. What is the commission rate of the Feet Finder website for the sale of photos?
The website itself keeps 20% of each sale of a photo. This margin is very reasonable as compared to other marketplaces that keep a half or more than half margin of the sale.
Concluding Thoughts:
Feet Finder is a great website that helps people, especially women, earn money without revealing their identities. Women can earn money by selling photos of their feet. It is completely legal in almost all the countries of the world. There are no such strict laws or illegal actions against selling the feet images. Moreover, both men and women can sell their content on this website. You need to create an account for selling your feet images. You must also be 18 years old to sell or buy on this platform.