Home Theatre Power Manager Complete details 2023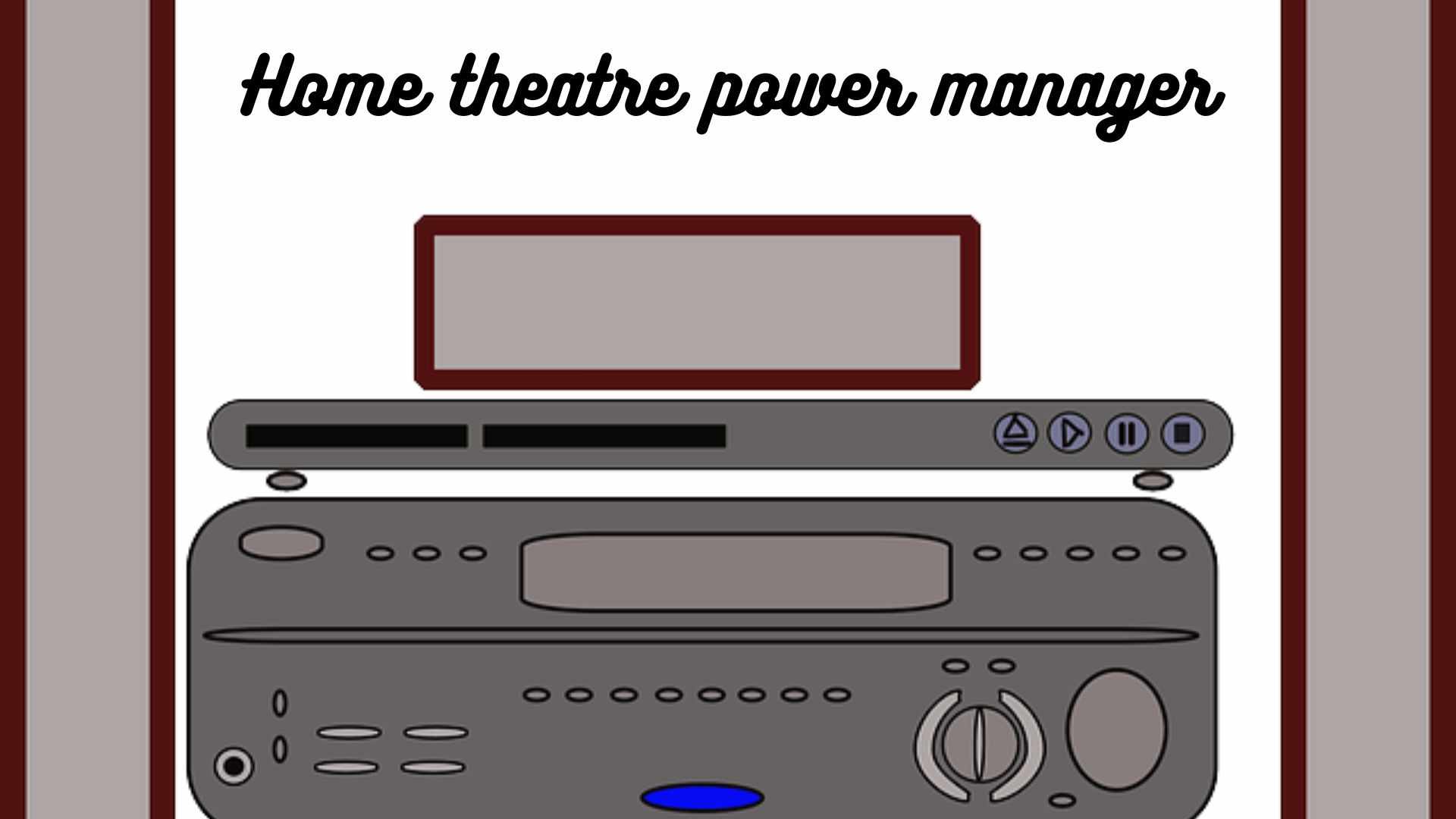 A home theatre power manager is a device that manages the power consumption of your home theatre system. It is a power device that provides multiple outlets for your devices. It also has features to help you save energy and protect your electronics. The power manager has outlets that have specific labels for different devices like your TV, gaming console, and sound system. By plugging your devices in these outlets, the power manager can turn them off or put them into standby mode when you do not use them.
Some power managers also offer surge protection and noise filtering to protect your electrical devices from voltage variation. This can increase the life of your devices and prevent damage from electrical surges or noise on the power line. Overall, a home theatre power manager is a simple tool for managing the power usage of your home theatre system and protecting your valuable electronics.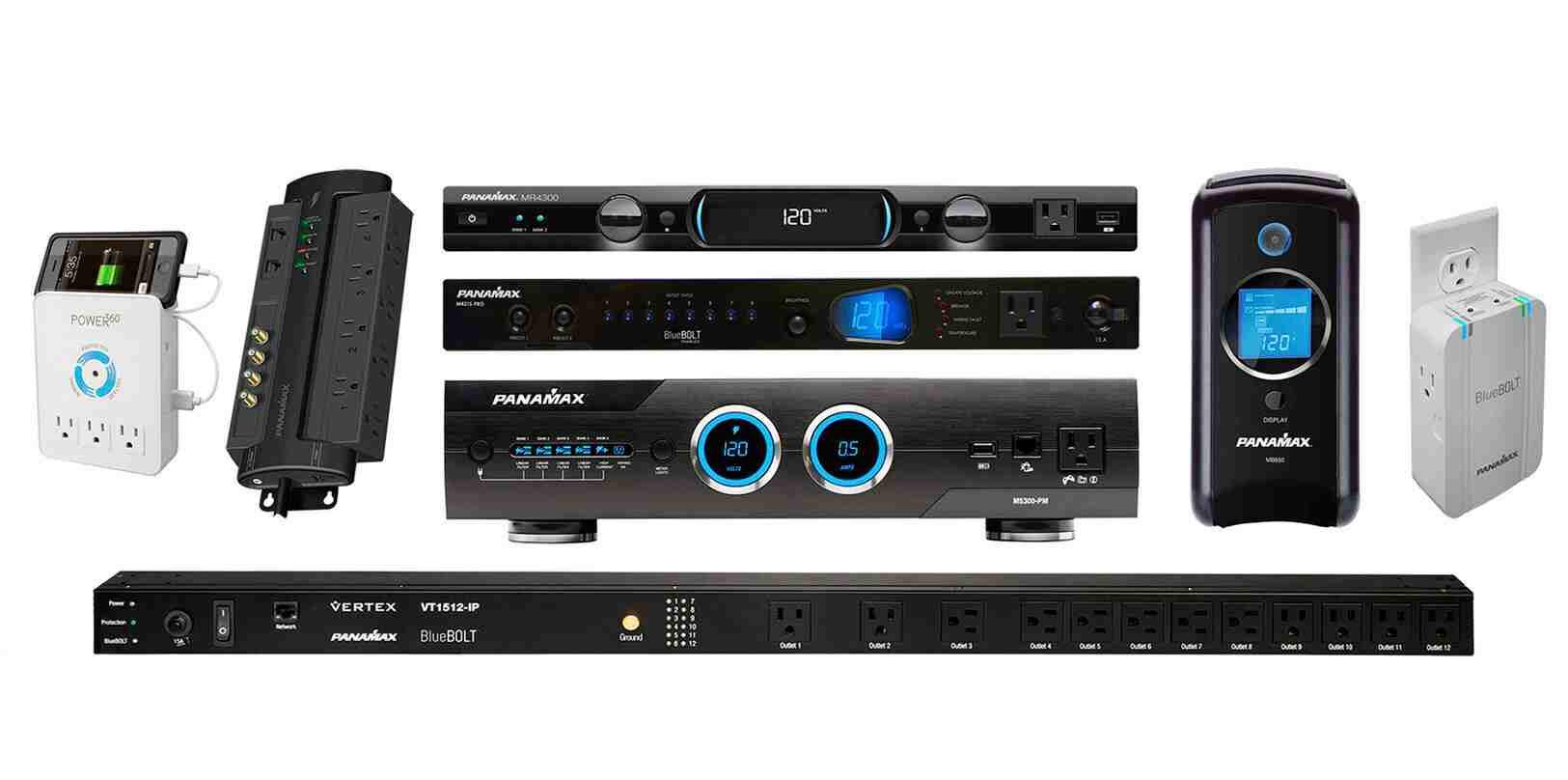 Image source: Panamax
Features of Home Theatre Power Manager:
Following are the key features of power manager for home theatre that make it a unique and in-demand product.
Power Control:
With the help of a power manager, you can turn on or off multiple devices in the home theatre system with a single switch or remote control. This feature of power control helps you to prevent energy waste and increase the lifespan of devices.
Surge Protection:
The Home theatre power manager can also protect the home theatre system from power surges and spikes, which can damage equipment. Whenever, there is a voltage fluctuation, a fuse inside the circuit burns itself and breaks the path of current. In this way excessive current does not flow in the appliances.
Voltage Regulation:
The power manager can regulate the voltage to ensure that devices receive a consistent and stable power supply, which can improve performance and extend the life of the equipment.
Energy Monitoring:
By using the power manager, you can monitor the energy consumption of the home theatre system. This manager also provides feedback on how to reduce energy usage.
Programmable Outlets:
There are a few home theatre power managers that have programmable outlets. These outlets allow you to set timers or schedules for turning devices on and off. After that time approaches, the device automatically switches on or off.
Compatibility:
These power managers are often compatible with different devices like TVs, sound Bars, gaming consoles, and other streaming devices.
User-Friendly Interface:
The power manager should have a user-friendly interface that allows users to easily set up and manage the power settings for their home theatre system.
Remote Access:
The power manager also offers remote access that allows you to control your home theatre system from anywhere using a smartphone or other device.
Advantages of Home Theatre Power Manager:
There are several benefits to using a home theatre power manager, including:
Energy savings:
A power manager can help you save energy by automatically turning off your devices. It also saves energy by putting them into standby mode when they are not in use. This can help reduce your electricity bill and reduce your carbon footprint.
Equipment protection:
Power managers can offer surge protection and noise filtering to protect devices from damage caused by power spikes. This can help extend the life of your equipment and prevent costly repairs or replacements.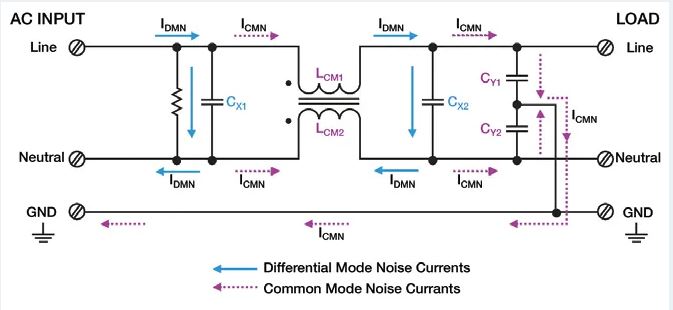 Image source: Vishnumaiea.in
Convenience:
With a power manager, you can turn off all your home theatre devices with the press of a single button. This can be especially useful if you have a complex setup with multiple devices and cables.
Safety:
Power managers can help prevent electrical fires by automatically shutting off power to devices that are not in use or are drawing too much power. This can provide an added layer of safety for your home and family.
Reduced standby power:
Many devices continue to draw power even when they are turned off or in standby mode. A power manager can help reduce this bad power by completely cutting off power to the devices when they are not in use. This can help save energy and reduce your electricity bill.
Best Home Theatre Power Manager:
Now, let us discuss the best power managers for home theatres that provide excellent service of device protection.
Furman Pl-8C:
The Furman PL-8C is a user-friendly device that is made to protect your home theatre devices from power-related issues. Its best feature is its next-level power conditioning. This conditioning reduces noise on the AC line and provides your devices a clean and regular power. With a 15 amp capacity and 8 isolated outlets, it can handle various components and reduce noise between them.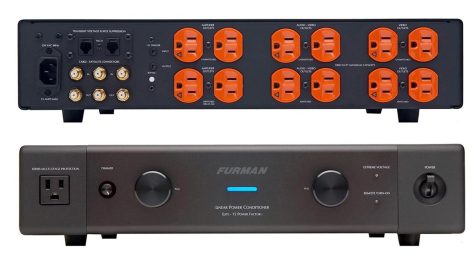 Image source: The Daily Lowan
It also has LED indicators to show the power protection status and a built-in USB charging port for mobile devices. Its rugged aluminium chassis provides durability and protection from damage.
AudioQuest Niagara 1200
The AudioQuest Niagara 1200 Power Conditioner is a high-end device that provides a clean and stable power supply to your audio and home theatre equipment. It has a Linear Power Supplies system which reduces noise and improves audio quality. It also has a noise-dissipation system that lowers unwanted noise.
Its Multi-Stage Protection system protects devices from power surges and voltage fluctuations. This home theatre power manager has a sleek and modern design. It comes in black and silver colours and matches most audio and home theatre equipment. It's made up of high-quality materials. Therefore, it is a durable and long-lasting solution.
Soundavo PMX-6600 :
The Soundavo PMX-6600 audio power conditioner has 14 outlets. 12 outlets are at the back and 2 at the front. It has a current rating of 15 Amps. This power manager uses high-quality capacitors from Wima and Panasonic to filter over 99% of noise. It gives a stable power supply for your home theatre system. The power conditioner has a LED meter display. It further has a dual USB charger that can connect to your smartphone or tablet.
Panamax MR5100
The Panamax MR5100 home theatre power manager is a device that protects your home theater system from power-related issues. It gives benefits like surge protection, voltage regulation, and RFI filtering to keep your electrical devices safe. It has a surge protection circuit that can absorb up to 2160 joules of energy.
This power manager also regulates the voltage to give stable power to your equipment. It has power conditioning to filter out bad signals. This power manager has a compact design with a large front-panel display. It comes with a five-year product warranty and a $5,000 equipment protection policy.
AudioQuest PowerQuest 3:
The AudioQuest PowerQuest 3 provides protection from voltage spikes and surges. It has 8 outlets in which 2 are optimized for 4K/8K video and 1 for high-current devices. Its other 4 outlets are basically for noise filters. It can bear repeated surges of 6000V/3000A. It also has signal line protection for network, phone, cable, or satellite devices.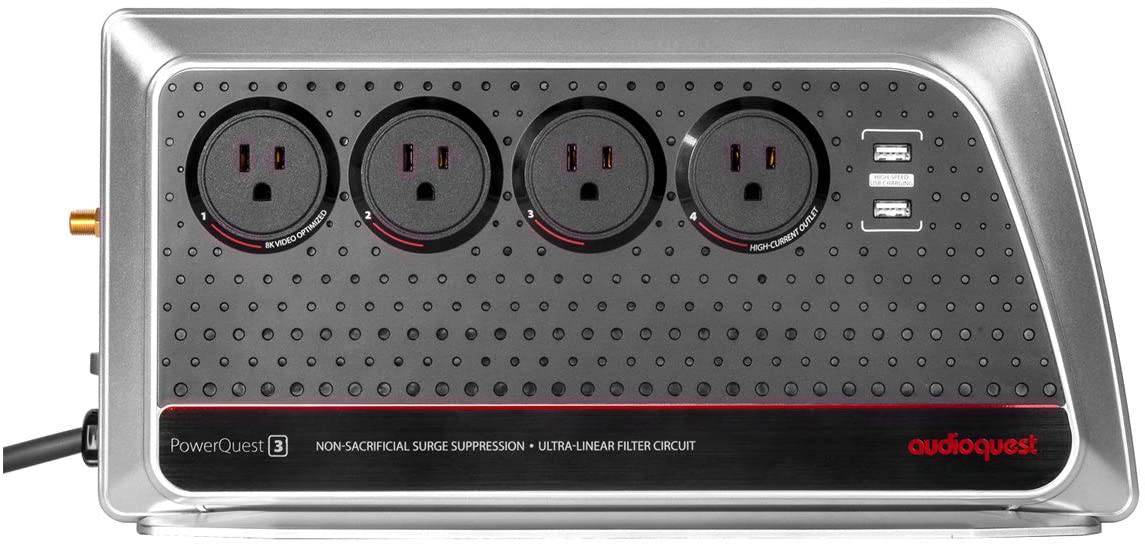 FAQs
Are home theatre power managers worth it?
A power manager is a very useful device for home theatre systems, but it's not necessary for everyone. If you have good-quality electrical wiring and devices, you may not see much benefit from using a power manager. However, most people think that a power manager is a good idea to improve the performance and efficiency of their home theatre system.
What is a home theatre power manager?
A Home Theatre Power Manager is an electronic device that safeguards costly audio, video, and other home theatre equipment from irregular electricity. It does all this by converting impure, unstable, and noisy electricity into clean, stable, and quiet electricity.
Do Furman power conditioners work?
Most surge protectors and power strips do not provide enough protection and do not clean the power. But Furman power conditioners are different. They offer good protection and clean the power. That is why many professional performers and big venues rely on Furman for their systems.
How much power does a home Theatre use?
The amplifier's normal power usage when it is being used normally is around 600 to 1100 watts, as stated by the manufacturer. This amount of power is equivalent to about 60% of the power that a 15A line can provide.
Bottom Line:
Power management systems are important devices that can protect and increase the performance of your audio and video equipment. Home theatre power manager comes with features like surge protection and noise filtering. A power manager can help ensure a stable and reliable power supply to your home theatre system. When selecting a power manager, be sure to consider the specific needs of your equipment and choose a model that provides true protection and performance.