Insomnia Cookies: All You Need to Know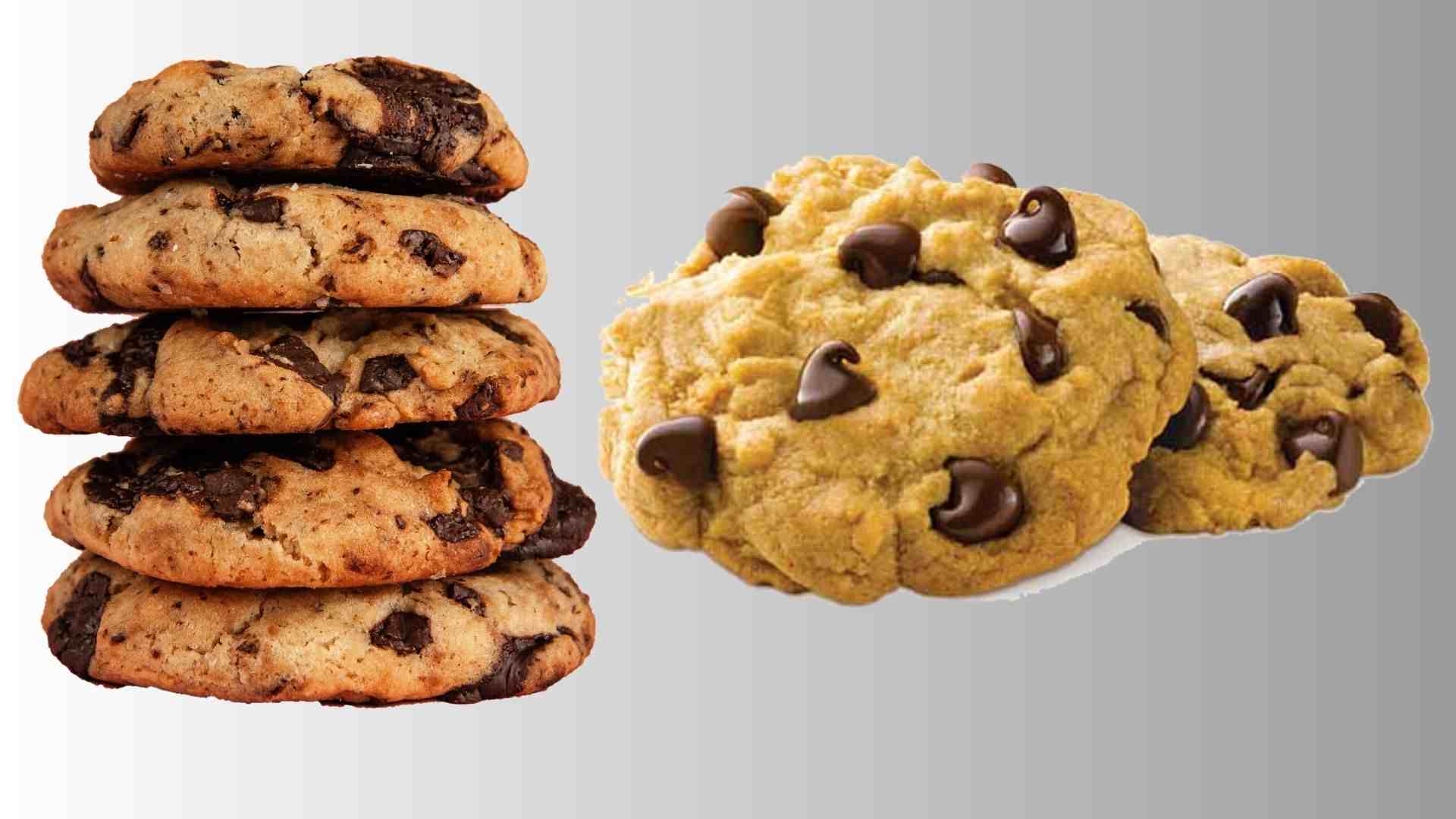 In an era where midnight craves and sleepless minds often coexist; Insomnia Cookies appear as a delightful haven for people seeking comfort and fullness in the early hours. They have won the hearts of foodies with their attractive flavor, warm, creamy centers, and quick delivery service. This midnight cookie delivery firm has become a favorite option for cookie lovers and night owls alike, with a menu full of freshly baked treats.
Moreover, Insomnia Cookies specializes in providing warm, fresh-baked cookies, brownies, ice cream, and even buttercream side dishes directly to your house till 3 a.m. In this article you will explore the magic behind Insomnia Cookies and also delves into its delectable world, exploring its origins, the unique experience, and the mouthwatering menu it offers to its clients.
Insomnia Cookies Overview
Company Name – Insomnia Cookies
Founders – Seth Berkowitz and Jared Barnett
Founded – 2003; Philadelphia, Pennsylvania, U.S.
Type – Private
Industry – Bakery
Headquarters – Philadelphia
Number of Locations – 215+ Stores
Served Area – United State
Owner – Krispy Kreme, Inc. (JAB Holding Company)
Website – Insomniacookies.com
The Birth of Insomnia Cookies
Seth Berkowitz, a University of Pennsylvania student who looked for freshly made cookies during midnight study sessions, started Insomnia Cookies in 2003. Berkowitz decided to put his interest into a business after realizing that many other people shared his late-night food cravings. As a result, it was founded as a bakery dedicated only to delivering warm cookies till the early hours of the morning.
What began as the only store in a university town grew quickly in popularity. The concept resonated with students, cookie lovers, and night owls in the same, resulting in the nationwide popularity of Insomnia Cookies. Today, the business has over 200 shops, allowing it to be simple to find cookie lovers all around the country.
The Sweet Symphony of Flavors
Insomnia Cookies has a wonderful variety of flavors to please even the most picky cookie fan. There is a flavor for every need, from classics like sugar cookies and chocolate chips to experimental combos like double chocolate mint, s'mores, chocolate chunks, and peanut butter. Every cookie gets baked perfectly, achieving the tempting balance of chewy and soft texture that cookie fans like.
The Insomnia Experience
What separates Insomnia Cookies from other bakeries is its devotion to providing cozy cookies straight to your door. One of the main features that define them is its midnight delivery system, which ensures that cookie requests are met around the clock. These cookies get you covered for an unplanned gathering, a midnight study period, or a simple wish for a treat. They are open until late at night and will satisfy your cravings regardless of what time it is. You can get a new batch of freshly baked cookies without leaving your house or hostel room thanks to their quick delivery service. This ease of use and dedication to client happiness played a part in the brand's success.
Beyond Cookies: A World of Delights
While cookies are the main attraction, Insomnia Cookies additionally provides a variety of delicious treats to satisfy your taste senses. Ice cream sandwiches, Cookie cakes, and Brownies are a few delightful options, serving as an enjoyable alternative or complement to their known cookies. These delights are likely to please any sweet taste, making Insomnia Cookies an ideal choice for dessert fans.
Community Engagement and Events
Since its launch, Insomnia Cookies has rapidly expanded, with stores now delivered around the United States. Through collaborations and activities, they are actively involved with others. The company usually works with local companies, educational institutions, and charity organizations, to promote community and spreading happiness via the love of cookies. Warm cookies are also a popular option for gatherings, events, and presents, helping people to enjoy the delight of freshly baked delicious cookies with those they care about.
Additionally, Insomnia Cookies actively promotes the feeling of connection and belonging by supporting donations, hosting campus activities, and participating in charitable efforts. Their popularity on college campuses as well as in urban areas has made them a popular nighttime treat for students, employees, and anybody looking for sweet relief from insomnia.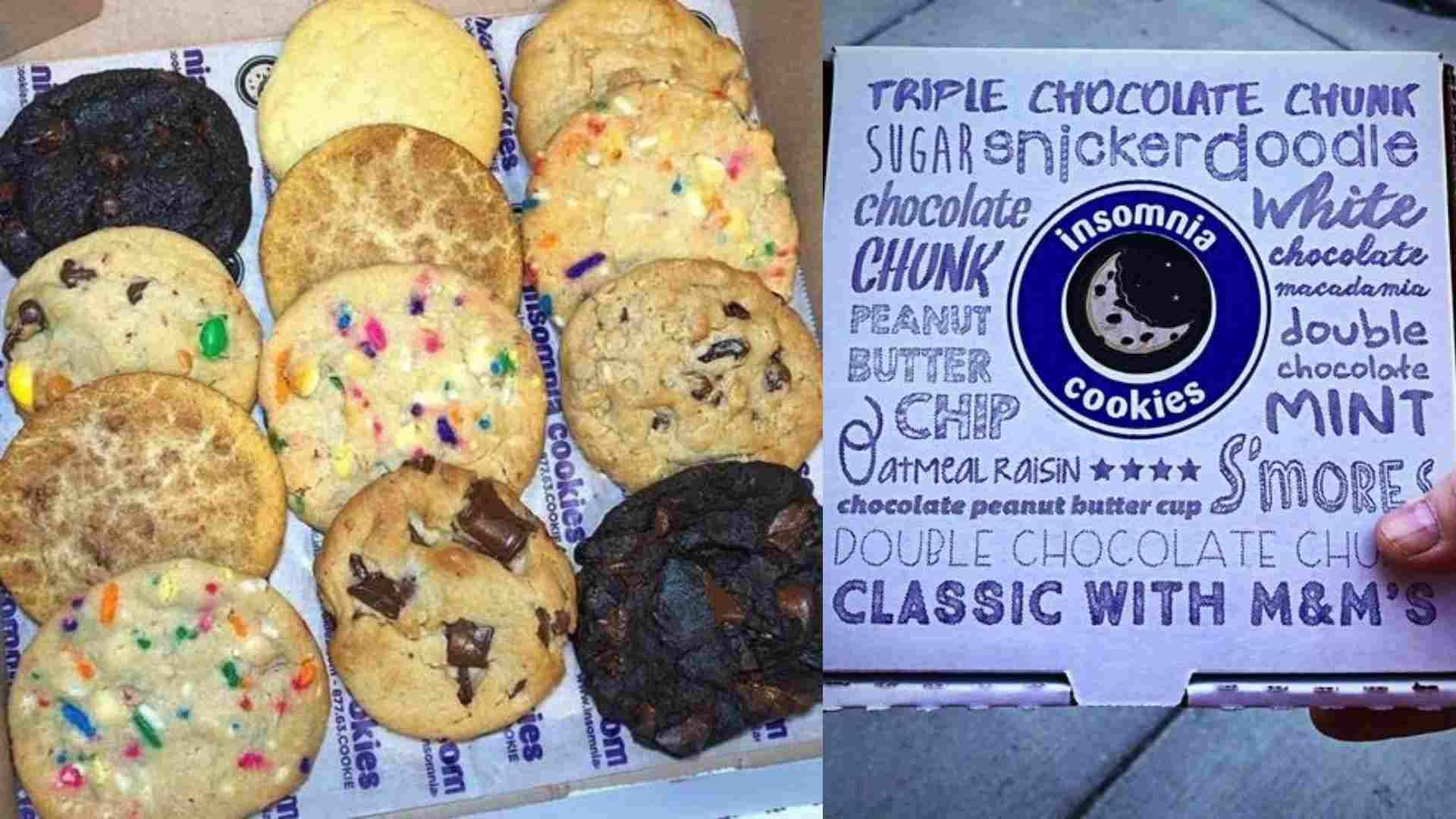 Menu Highlights
Insomnia Cookies has a variety of mouthwatering and delicious flavors to tempt your taste buds. You'll find a cookie for every taste, from old favorites to unusual creativity. Let's take a look at some of the highlights, which include:
This cookie is a timeless classic, filled with rich, melt-in-your-mouth chocolate pieces that deliver a rush of flavor with every bite.
This cookie is inspired by the traditional campfire delicate and contains wafer cracker crumbs, marshmallow chunks, and chocolate chips. It's a creamy treat that will take you back to your childhood.
A soft chocolate cookie baked with rainbow sprinkles, packed with smooth buttercream along with even more rainbow sprinkles.
This cinnamon sugar-coated cookie has the ideal blend of sweetness and warmth, which makes it a crowd-pleaser.
Big'wich Cookie Sandwiches
Two large, warm cookies sandwiched with cream cheese or buttercream icing.
This cookie is a peanut butter lover's dream, filled with pieces of peanut butter, leading to a delightful blend of creamy and nutty flavors.
This cookie mixes a creamy layer of chocolate along with a fresh hint of mint, providing a pleasant flavor combination for chocolate and mint fans.
They usually offer 1-2 brownie flavors to choose from, such as the loaded brownie and the standard chocolate milk brownie covered with icing and sprinkles.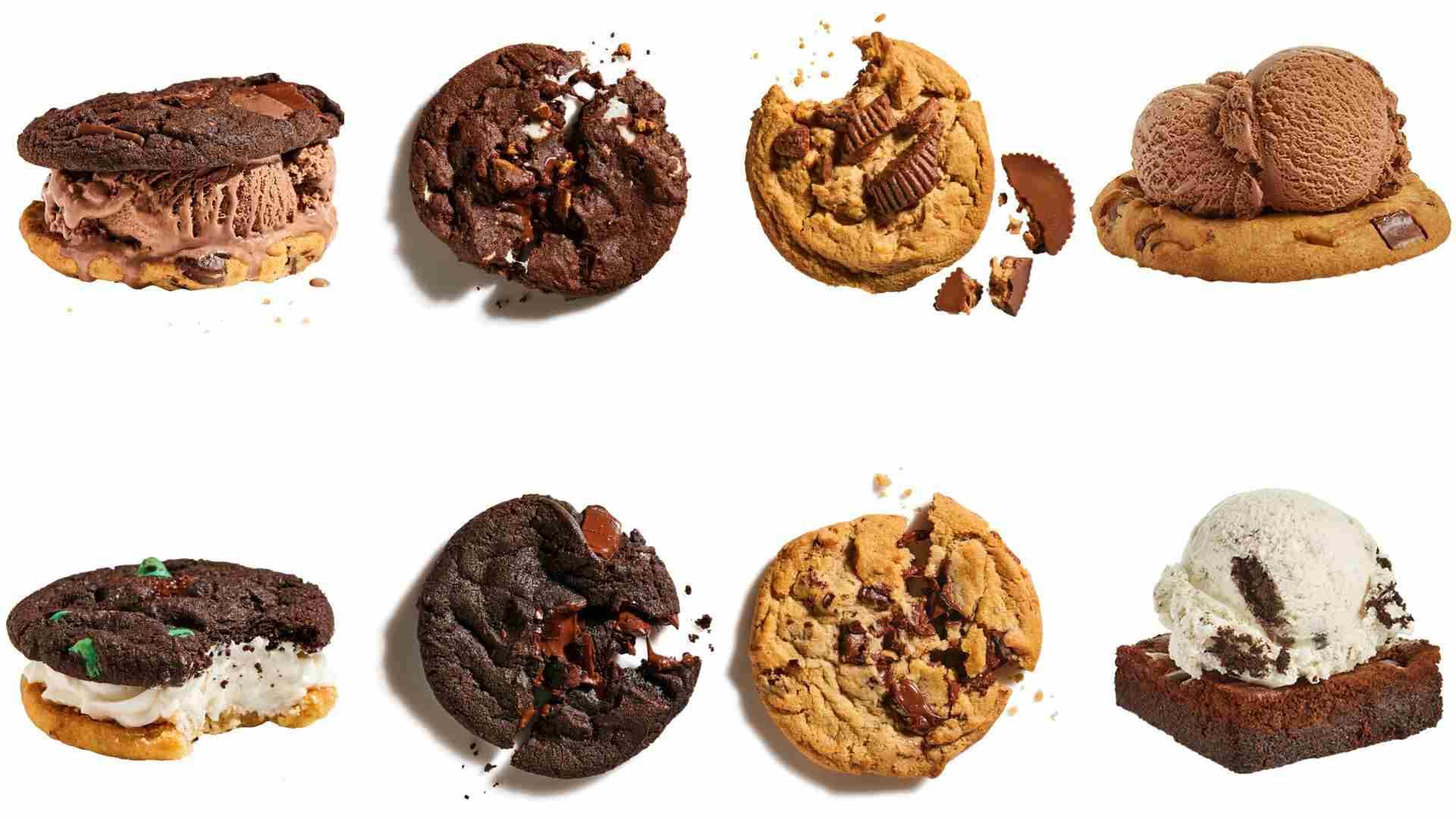 Vegan and Gluten-Free Cookies
It's important to point out that Insomnia Cookies additionally provides vegan and gluten-free forms, so everyone may enjoy these delicious cookies. They have a few vegan cookies that suit specific diets, like double chocolate, chocolate chunks, and birthday cake. There is also a gluten-free chocolate chip cookie option.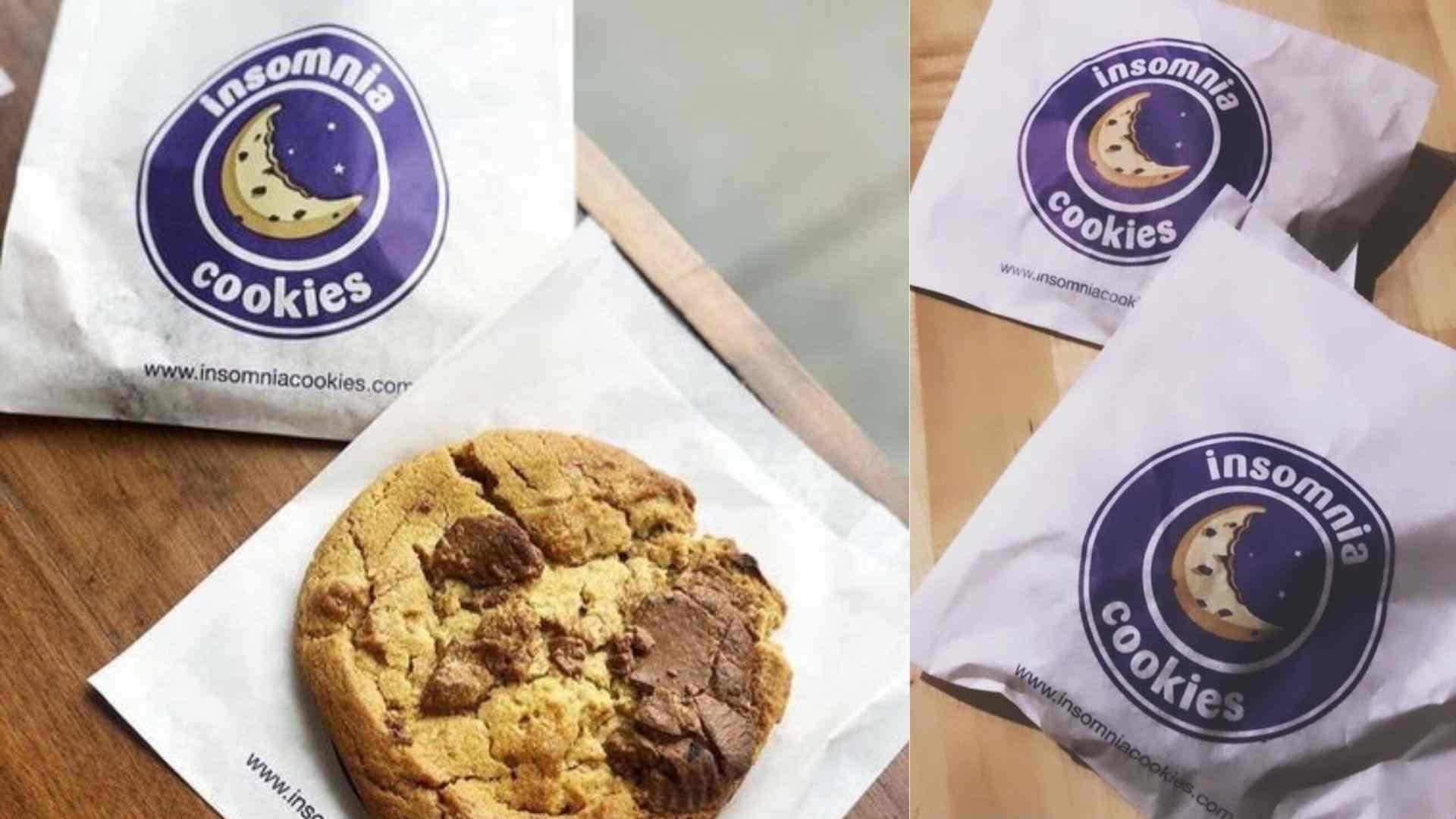 Featured Flavors
Insomnia regularly changes its flavor lineup to keep things new. They often provide exciting and creative flavor combinations, as well as seasonal flavors. Here are some previously featured flavors:
Lemon Poppy Seed
Rocky Road
Cookies 'N Cream
Caramel Apple Pie
Orange Creamsicle
Midnight Berry (brown sugar cookies with berry cereal and blueberries)
Hibiscus Berry (with white chocolate, strawberries, and cranberries)
Deluxe PB&J (peanut butter stuffed with grape jelly)
Ice Cream AS Cookies
Some flavor of Insomnia's Cookies IN Ice cream includes:
Chocolate – Straight-up chocolate ice cream
Vanilla – Classic vanilla ice cream
Cookies 'N Dream – Cookies with double chocolate chunks in vanilla custard ice cream
Caramellionaire – Deluxe Salted Caramel cookies with caramel curls in salted caramel ice cream
Minterstellar – Mint ice cream with double chocolate mint cookies.
Dreamweaver – Double chocolate chip cookies coated in purple s'mores ice cream along with milk fudge swirls and white stars
Moon Tracks – Deluxe Peanut Butter Cup cookies with milk fudge swirls and small peanut butter cups in vanilla pudding-flavored ice cream
Cookie D'ough – Chocolate Chunk cookies with chocolate chips and cookie dough bits in cookie dough ice cream.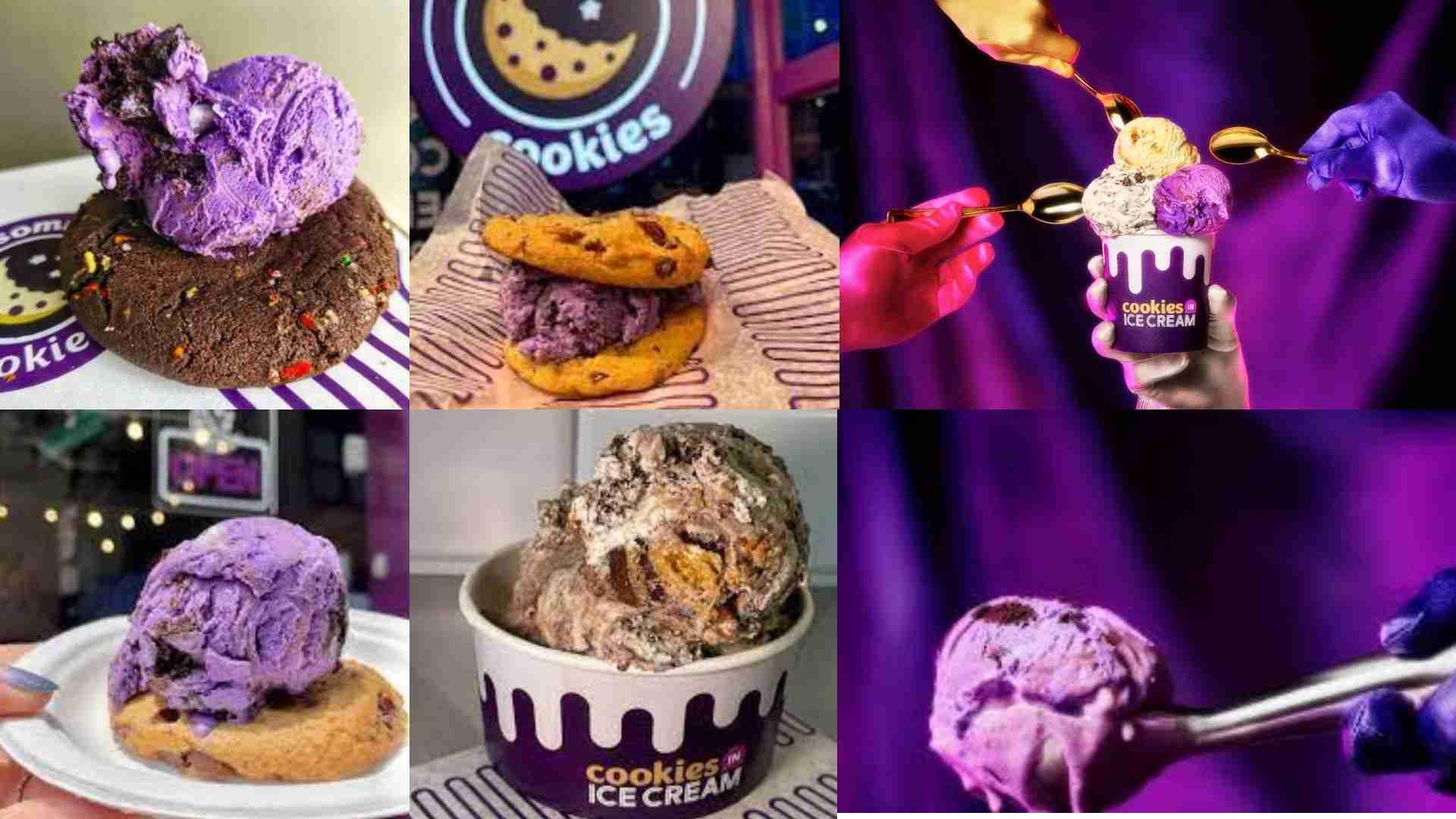 Cookie Cakes
Check out Insomnia's cookie cakes if you're planning a special event. Choices of flavors are available for these large cookie cakes, and you can personalize them with a lovely frosting and a message. These tasty treats are ideal for groups of 4 to 8 people. They provide the following cookie cakes:
6" Cookie Cake – Classic cookie flavor, the decorative frosting of your choice, and a personal message made with buttercream icing.
10" Cookie Cake – Classic cookie flavor, the decorative frosting of your choice, and a personal message made with buttercream icing.
Triple Threat Cookie Cake – Three classic cookie flavors, decorative icing of your choice, and a personalized buttercream icing message.
Moon Cookie Cake – A crescent-shaped cake topped with two traditional cookie flavors, your choice of decoration frosting, and an optional message of buttercream icing plus toppings.
Do Cookies Make You Sleep?
For clarity, these cookies will not make you fall asleep or keep you awake at night. These are simply tasty cookies with no melatonin, THC, CBD, or other sleep-including or boosting additives. The only boost you'll get from those cookies is the sugar boost. The name of the company refers to late-night cookie delivery for those who are awake late and crave a nice sweet treat.
How to Order Cookies
If you want cookies delivered at home, you can order them on the Insomnia webpage or by using their mobile app. Just pick your location, choose your selected items, and proceed to the payment. If you want, you can pick up what you ordered from the spot. Most stores deliver between 10 a.m. to 3 a.m. on weekdays as well as noon to 3 a.m. on weekends. The average delivery time for Insomnia is between 20 and 35 minutes. If you're excited about it, you can even track its progress on Insomnia's Cookie Tracker.
Frequently Asked Questions
Q: What is so special about Insomnia Cookies?
Insomnia Cookies takes pride in providing warm and tasty cookies to people and companies alike.
Q: Do Insomnia Cookies really help you sleep?
The short answer is NO. These cookies are simply amazing cookies with no sleep-inducing additions.
Q: Is Insomnia Cookies coming to Rochester Michigan?
The company is expanding to Rochester Hills, marking Michigan's ninth location. They will establish a new restaurant on Walton Boulevard of Rochester Hills in Oakland County.
Q: Is Crumbl or Insomnia better?
Crumbl Cookies are delicious and decorated with unique icing combinations that are designed to be enjoyed and shared. On the other hand, Insomnia Cookies are softer and come in just a couple of trustworthy flavors. They taste best when served warm and melted.
Summary
Insomnia Cookies have earned its reputation as a favorite late-night dessert provider, attracting midnight cookie lovers with its tempting flavors, quick delivery system, as well as dedication to delivering freshly baked cookies where they are most needed. These Cookies have grown from a small start as a college-town bakery to become a recognized destination for cookie lovers nationwide.
It's not surprising that Insomnia Cookies enjoys a devoted fan base, given its wide menu, attention to quality, along with dedication to community engagement. So, whenever you find yourself turning and tossing in the middle of the night, or craving a warm and cozy cookie, know that Insomnia Cookies are only a few clicks away, waiting to put a smile on your cheeks and a taste of sweetness to your tongue.