Bugatti Scooter| A Electric Bike to Run with Complete Info
Overpopulation is a major issue that the world has been facing for several years. Cities are becoming more congested and travelling and roaming around the cities is becoming a hectic task. Therefore, the behaviour of transportation is changing and people are looking for hybrid transportation vehicles for their comfort. Bugatti Scooter is among the best electric scooter that comes with top-notch features and qualities. Furthermore, a great tool for roaming inside a city, and going for short trips and adventures.
What is a Bugatti Scooter?
Bugatti Scooter is basically an electric scooter that is designed and manufactured by a joint venture of Bugatti and ByTech company. This is a stylish and graceful scooter that comes with a battery of 600 watt and three different riding modes. These modes are Economy Mode, City Mode, and Sports Mode. In addition, the design of this scooter is very sleek and the construction material of this scooter is magnesium alloy. Therefore, the weight of the scooter is low and it can easily be folded and stored.
There are multiple other benefits and qualities of this scooter like comfort during riding, easy handling, many indicators and signals and great battery mileage. Overall, we can say an amazing product to cope with the congestion of cities because of overpopulation.
Quick Specifications of Bugatti Scooter:
| Brand | Bugatti |
| --- | --- |
| Vehicle Type | Scooter |
| Material | Magnesium Alloy |
| Design | Sleek, Stylish and foldable |
| Battery | 600 Watt, can speed the scooter upto 18 mph |
| Mileage | An average of 22-25 Miles on single charge |
| Dimension | |
| Weight | 15 Kg (35lbs) |
| Colours | Blue, Black, Silver |
| Price | $1200 |
Amazing Qualities and Features of Bugatti Scooter:
Let us get into the details of the qualities and features that you can enjoy while using this Bugatti Electric Scooter.
Riding Experience:
The riding experience is the best discussing point that one always looks for before buying this scooter. Because ultimately, the electric scooter should provide excellent performance and comfortable riding. From the reviews of the buyers and users of this Bugatti scooter, one can say that these scooters provide excellent rising experience. Whether you are riding in a city, on open roads for pedestrians, you can easily ride this scooter. Further, it gives a great thrill and adventure to you while riding on it.
Comfort:
From a comfort point of view, this scooter is excellent and matches the top ease level. The handle and standing point of this scooter are very soft. While you put yourself on this scooter, you can immediately feel a comfortable sensation and this helps you to ride the bike for a long period of time without getting any signs of tiredness. The handle material is soft but still provides you the necessary grip to handle the Bugatti scooter properly and enjoy the ride.
Handling of Bugatti Scooter:
The handling of a Bugatti scooter is very simple and easy. First of all you can adjust the height of the handle according to your requirement. This is just because of its portable and foldable characteristics. You can also observe two indicators which are located on the sides of the handles. These indicators help you to cross or sideline your scooter in the road. Like we observe in cars and other vehicles. Furthermore, there is another signal that you can observe on the mudguard of the back tire. This significantly increases the safety and handling of this scooter.
Moreover, the handling of this scooter requires minimum power. But when you are riding in sports mode, the handling of this scooter becomes a bit cautious and you need to be a bit careful. However, in normal conditions, you can handle the scooter in a casual way.
Design and Build Quality:
Bugatti has collaborated with another tech company Bytech to shape up and design this scooter. Bytech company is famous for its technology gadgets and softwares. These companies collaborated to manufacture this Bugatti electric scooter. The design of this scooter is very stylish and sleek. This scooter features an aerodynamic and great looking design that attracts the users.
This sleek design makes this scooter portable and foldable. The built material is magnesium alloy which reduces the weight of this scooter considerably. The weight of this scooter is around 15 Kg (35lbs). Due to these features, one can easily carry, fold and store this scooter.
This scooter consists of two tires and a handle that is long enough to provide you a comfortable bend while driving it. Furthermore, this handle is flexible and you can easily manage it according to your requirement. The tires are strong enough to withstand jumpy and difficult roads. Upon punturing, they can still offer you to cover far distance until you change or repair them.
Power:
The Bugatti electric scooter has excellent power and energy features. The battery of this scooter has a capacity of 600 watt. For these portable and foldable scooters, this is a great feature that can help the user to provide longer rides. The voltage of this battery is 36 volts and it provides a 10 ampere current for running this scooter. It means that in a Bugatti scooter, power is about 36Wh. The battery can be completely charged in 4 hours.
This power ability also supports the different riding modes of this scooter. Whether you are in city mode, economy mode or sports mode. However, these modes really affect power consumption. If the user is in Economy mode, the power drainage will be low. Similarly, if the rider is riding the Bugatti electric scooter in the City Mide, the speed increases and due to which the power drainage also increases. In sports mode, the power drainage is maximum because of the high speed of the scooter.
Mileage:
Bugatti scooter can provide an average of 25 Miles after completely charging its battery. With the help of this scooter, the user can ride in cities with pedestrians. These scooters are specially designed to provide a smooth ride in congested cities. It means that a completely charged bugatti electric scooter can help you roam in the city without any tension of low charging.
Furthermore, the scooter can get a high speed of 18.5 miles per hour. This mileage speed determines that the user can ride this bike at full speed for one and half hours. This is an excellent feature and mostly travellers and tourists look for these scooters to enjoy their ride and the atmosphere.
The mileage process also depends on the mode in which you are riding the bike. There are certain speed limits in those modes. So, mileage can change considering your type of mode usage.
Other Key Features of Bugatti Scooter:
This scooter has enough power to ascend the roads with a slope of 15 degrees because of the help of 9 inches tires. These tyres are very flexible giving you the riding option even after puncturing or damage.
You can buy or order from the official Bugatti scooter website. The cost of one scooter is $1200.
These scooters are available in three different colours that are very attractive and give an exciting finish and look.
There is a great dual braking system present in this scooter. There is a front brake that you can use in emergency situations. Otherwise, a base and back tyre brake is also available. This provides great dual safety for the user.
Battery protection features are also installed in this scooter. The battery comes with the safety feature of overcharging, overheating, short circuits and overcurrent.
You can observe different Illuminations on the base and edges of this Bugatti scooter that provides safety while driving during the night and in low light situations.
LED indicating Meter is installed in between the handles. You can see your scooter speed, remaining battery and time on this metre. This metre uses cutting-edge technologies for displaying these numbers.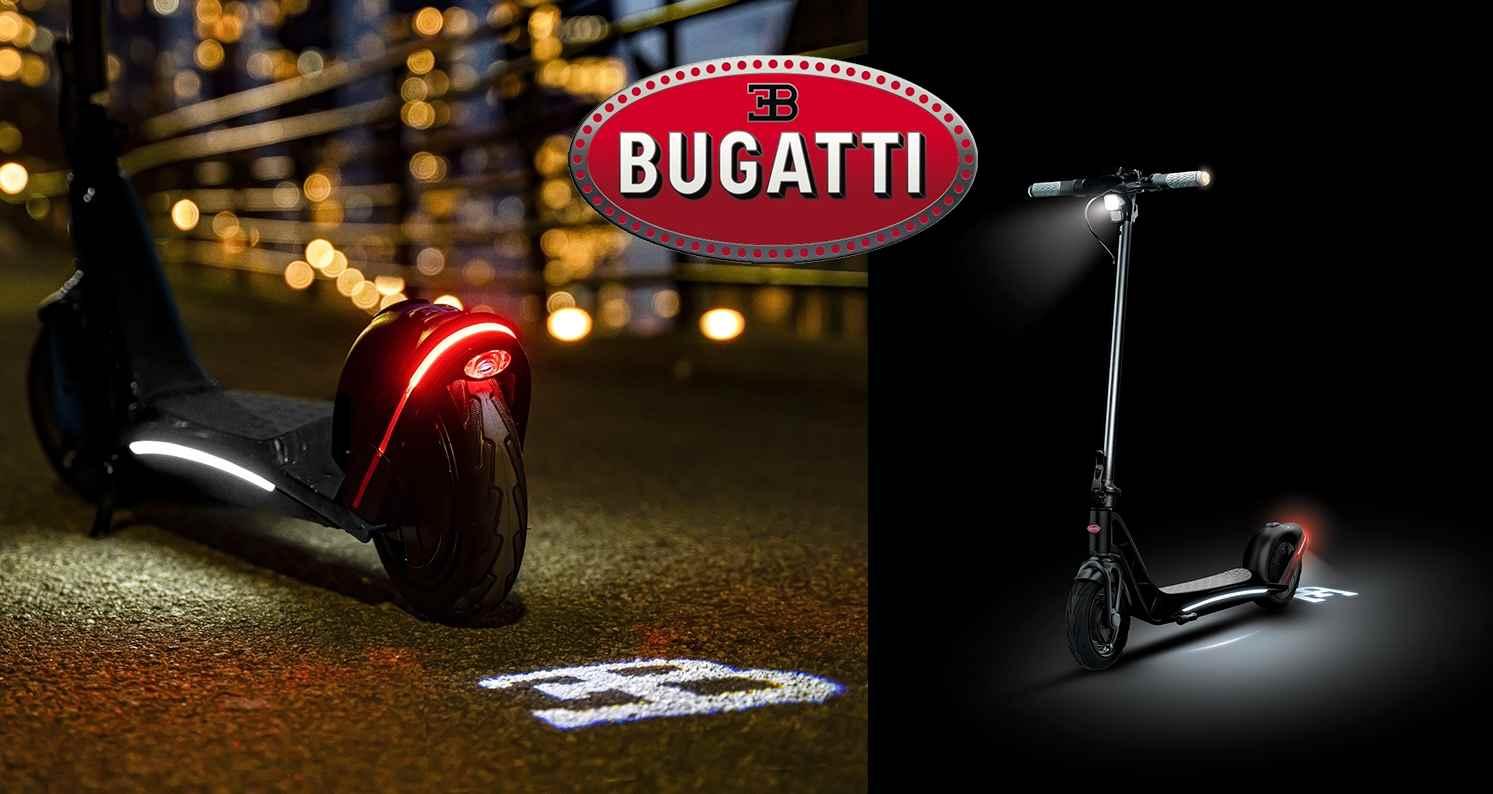 Price of Bugatti Scooter:
Price is another factor that is quite discussable. Some people suggest that the price of this scooter is a bit high compared to other electric scooters. But there are certain features that make this Bugatti scooter superior one to others. The price of this scooter is $1200.
Why are Bugatti and other Luxurious cars interested in Scooters?
Not only Bugatti but many other supercar brands like Lamborghini are making a mark in the world by launching their electric scooters. These brands are interested in making these scooters so that people who cannot afford their super cars can have the privilege to use other items from these brands. Furthermore, they are promoting pollution-less transportation ideas that increase the reputation and brand value of these supercars brands.
Another reason is that because of overpopulation, cities are becoming more congested. Therefore, people find it difficult to roam around in the city with these cars. These brands are looking to target this market and opportunities in this new transportation field. They are also in a race to provide luxurious rides for the people.
FAQs
How much does the Bugatti scooter cost?
On the eve of its launch in 2022, the Bugatti scooter cost $1200. The owner company Bugatti with a partnership of another tech company Bytech launched it. The second version of this scooter is soon launching and both these companies have again cooperated. In the second version of this scooter, you will see amazing and advanced features.
How fast can a Bugatti scooter go?
Bugatti electric scooters can attain a high speed of 18 Miles per hour. This is due to a 600-watt battery. Upon complete charging, the scooter can travel a distance of approximately 25 miles before charging it again. This speed also depends on the mode in which you are riding the scooter. For Your kind information, this scooter has 3 different riding modes.
Is there any Lamborghini scooter?
Yes, the Lamborghini brand launched its first electric scooter in 2021. The name of this scooter is AL1 which stands for Automobili Lamborghini. This scooter is foldable also.
How long does a Bugatti scooter last?
A completely charged Bugatti scooter can last up to 22 to 25 miles. It is the average that it can go on a single charge. The battery of this scooter provides 36 volts and 10 amperes current. It means the power of this scooter ranges up to 36KWh.
Final Thoughts:
Bugatti Scooter is an amazing product from the Bugatti brand that is known for its high-end supercars. Bugatti collaborated with ByTech company to design and shape this scooter. This scooter provides great comfort and saves your time while roaming in the city. It comes with multiple other features and qualities like heavy-duty battery, stylish design, handling and mileage. All these features and qualities sum up to give the rider a unique riding experience. This is another great step towards renewable sources and making the environment less polluted.