Are you fed up with carrying your iPhone and wallet separately? Are you searching for the perfect iPhone 8 cardholder cases for your iPhone? Well then, your search will surely end after reading this article. I have tried my best to provide details of the best cardholder cases in a compact and simple way. Surely you will enjoy going through this article.
Before you go through the specifications and features of the given cardholder cases below, I want you to keep a close eye on a few essential characteristics of these cases and covers.
Essential Considerations:
Design and material quality
Number of slots for holding cards
Protection quality
Grip, ease of access
Cutouts are precisely cut, camera, audio port, charging port, speakers
Thick cushioning at edges if panel protection is a top priority
The iPhone 8 is a relatively old phone compared to other new iPhones that are available in the market. However, due to its features and sleek and glossy design, it's still a great mobile. There is no shortage of great cardholder cases in the market, even if the iPhone 8 is an old model, we've taken out some of the best iPhone 8 cases with a cardholder to provide you best experience while going out
List of iPhone 8 cardholder cases:
Here is the list of best iPhone 8 cardholder cases, go through all of these for the best choice.
Spigen Armor Slim Case:
You should definitely go for this case if you are looking for a minimalist look. The Spigen Armor case is lightweight, slim and designed to give a proposed look without losing any key features.
Price: 33.9$
| Pros | Cons |
| --- | --- |
| Complete protection with dual layers and an air cushion feature | Not compatible with wireless charging |
| The card slot can hold up to 2 cards | Removing this case is quite rigid |
| Shock absorbing Interior | No Flap or fold |
| Firm grip with a polycarbonate exterior | The screen can damage if the iPhone screen side strikes the ground. |
| Backside protection is perfect | |
Arae Flip Cover Card Holder case:
Price: 13.9$
| Pros | Cons |
| --- | --- |
| Convenient to use, easy access to camera, audio port, lock button and charging port | It is a feminine design. |
| Material is top quality premium leather, for sheer strength and comfort | |
| Stand feature for watching movie with multiple viewing angles | |
| Unique design with soft inner cover for holding device, and keep the cellphone safe from scratches | |
| Durable because the inner surface of the case is firmly attached to the iPhone, so the iPhone does not pop out if it is dropped. | |
One top cardholder case: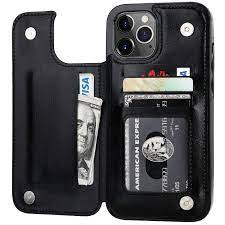 Price:14.99$
| Pros | Cons |
| --- | --- |
| High-quality leather is used as the material, providing a soft and smooth feel. | There is no flip covering the screen. |
| 3 slots available for card holding, different cards i.e credit cards, ID cards and business cards etc | Screen is vulnerable to scratches. |
| Great all round protection from falling down | |
| Proper cutouts for audio ports, speakers and charging ports. | |
Budu Modular Case: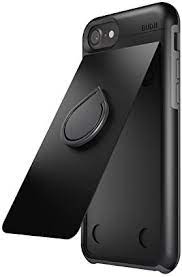 Price: 20-30$
| Pros | Cons |
| --- | --- |
| Can hold 3 cards with attachment | This case has no space for the cards but an attachment is added to the back where you can put cards. |
| It's a modular case that also offers a kickstand feature. | |
| A lot of accessories can be attached mechanically and magnetically to the back of the case. | |
| The overall rating is 4.4 out of 5 because it solves all the major problems of the iPhone holder. | |
Moshi Overture:
Price: 29.95$
| Pros | Cons |
| --- | --- |
| It has a built-in screen cleaner that keeps the screen clean when the flap is closed. | Becomes heavy because there is no latch to keep all the things together. |
| The kickstand feature allows the user to watch videos from different viewing angles. | Do not provide a great protection |
| The case can hold up to 4 cards and other bills and cash also. | Average looking like a case with mediocre features. |
| A small screen cleaner microfibre is present in the case for instant cleaning of oil and grease from the screen. | |
| Average rating 4.2 out of 5 | |
Silk Innovation Q card case: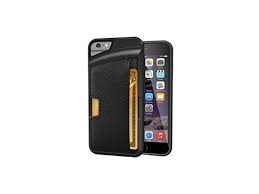 Price: 8.9$
| Pros | Cons |
| --- | --- |
| Made up of leather for great comfort and ease. Provides great grip. | Not a modern type of case |
| Can store 3 cards. | Compatible with aged persons |
| With amazing texture and design, the kickstand feature is also available. | |
| Offers perfect protection because it comes with a screen protector | |
Olixar X-Tome case: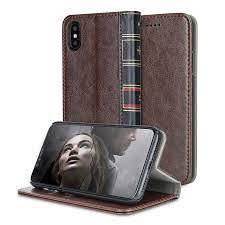 Price: 8.9$
| Pros | Cons |
| --- | --- |
| This case can store 2 cards. | The magnetic cover is not quite strong. In case of an accidental drop everything will pop out of the case |
| The overall rating is 4.1 out of 5 | Becomes bulky when carried while walking |
| Have a seamless magnetic back cover. | |
| A kickstand feature is also present. | |
Uolo 2 in 1 case: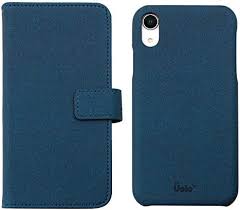 Price: 19$
| Pros | Cons |
| --- | --- |
| Great | Lack of protection for the iphone because the bottom part is not covered. |
| 6 different card slots | |
| Touch case, and it has a protective cover. Cards will not have contact with the screen | |
| You can easily remove the iPhone from the case. Because of no rigid contact of the case with the iPhone | |
| Good rating of 4.6 rating out of 5 | |
Tech 21 Evo Check case: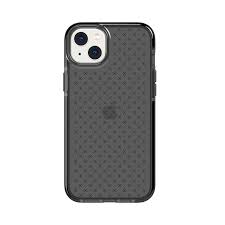 Price: 19$
| Pros | Cons |
| --- | --- |
| High-rated cover because it is quite tough and offers great protection | No magnetic latch available. |
| Hold up to 2 cards, and cards won't come out in case of accidental drop. Moreover, bills can also be inserted. | Size is quite bigger than the iphone, and should have been a compact case. |
| The inner surface of the flap is made up of microfiber material. It cleans the screen automatically. | |
| The mechanical latch keeps the case together in case of an accidental fall on the iPhone. | |
| The rating is 4.4 out of 5. | |
ZVEdeng Rotating Case: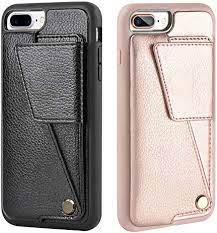 Price: 31$
| Pros | Cons |
| --- | --- |
| A classic design made up of high-quality leather | While using the iPhone it feels like a thick using experience |
| You can also detach the cardholder from the case. | In case of an accident, the cardholder may detach from the case, everything will pop out. |
| Comes in a variety of unique colours. | |
| Provide great protection to the iPhone | |
| Perfect cutouts for the camera, charging port and audio jack | |
| Can hold 3 cards | |
Final Thoughts:
There is truly no scarcity of tremendous iPhone 8 cardholder cases are a few of the most beneficial and practical. We love lots of them for their smart sliding cardholder and sneaky disposition. Moreover, splendid smartphone protection is also their key feature.
For top-notch nice and convenience, the Dream 2-in-1 has it all, after which there may be the ZVEdeng Rotating case for affordability and funky factor. Really, all the instances in this listing could be taken into consideration the exceptional iPhone eight instances with cardholders with many proving plenty extra lower priced than withinside the past. For more info must visit techbusinesinsider.com