Workforce Software Monday 2023 Complete Detail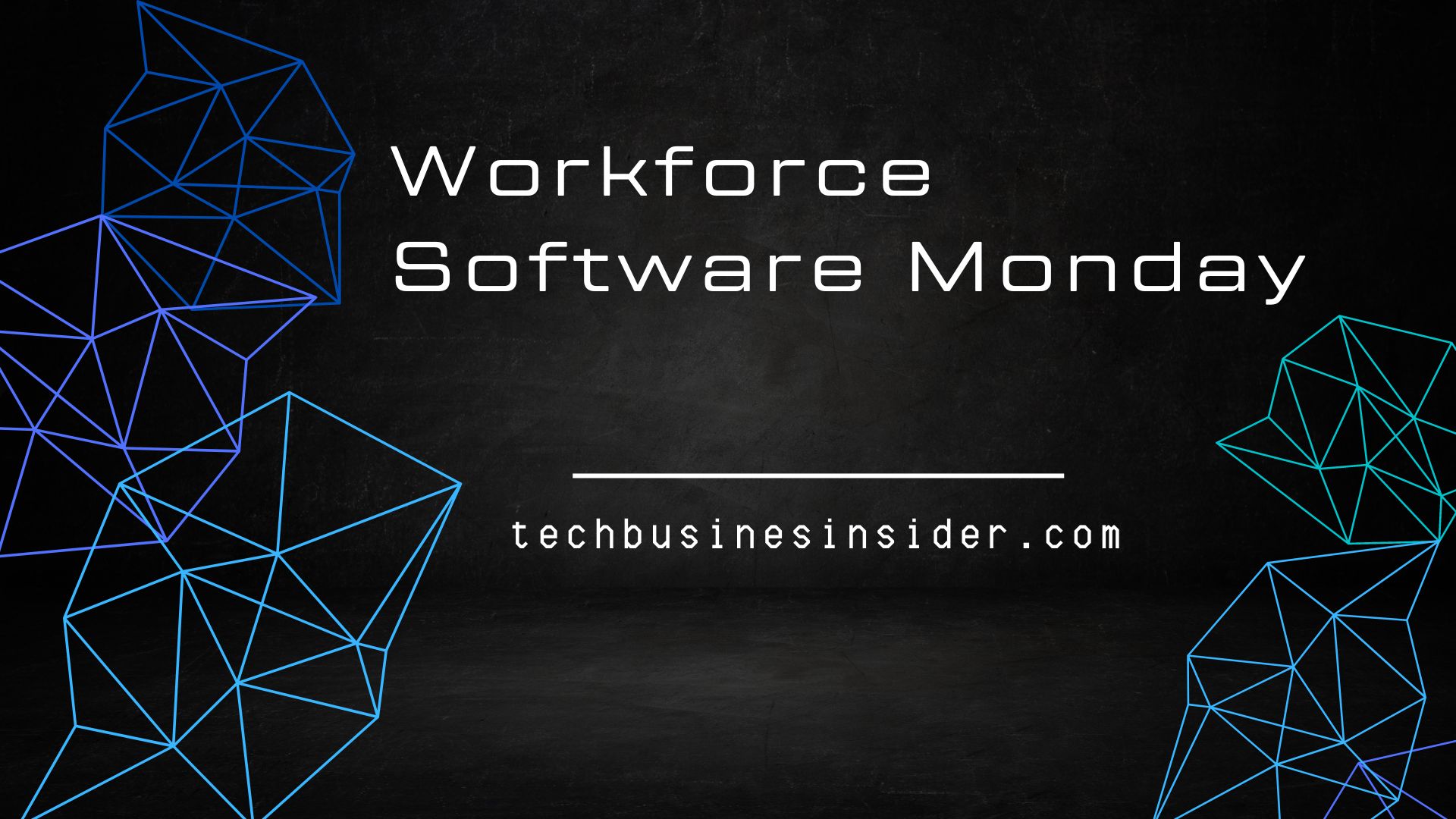 What is workforce software Monday?
Workforce software Monday is basically a project management and team collaboration software that allows teams to track projects, tasks, and workflows in a proper platform. The Monday platform provides a visual, customizable interface that allows teams to collaborate, assign tasks, communicate, and manage their workloads efficiently.
You can use Monday software for a variety of projects and workflows. You can use it for software development, marketing campaigns, event planning, and much more. This platform also give various features like customizable templates, real-time collaboration, automatic notifications, progress tracking, and reporting. You can also integrate Monday software with other popular tools like Google Drive, Slack, and Trello.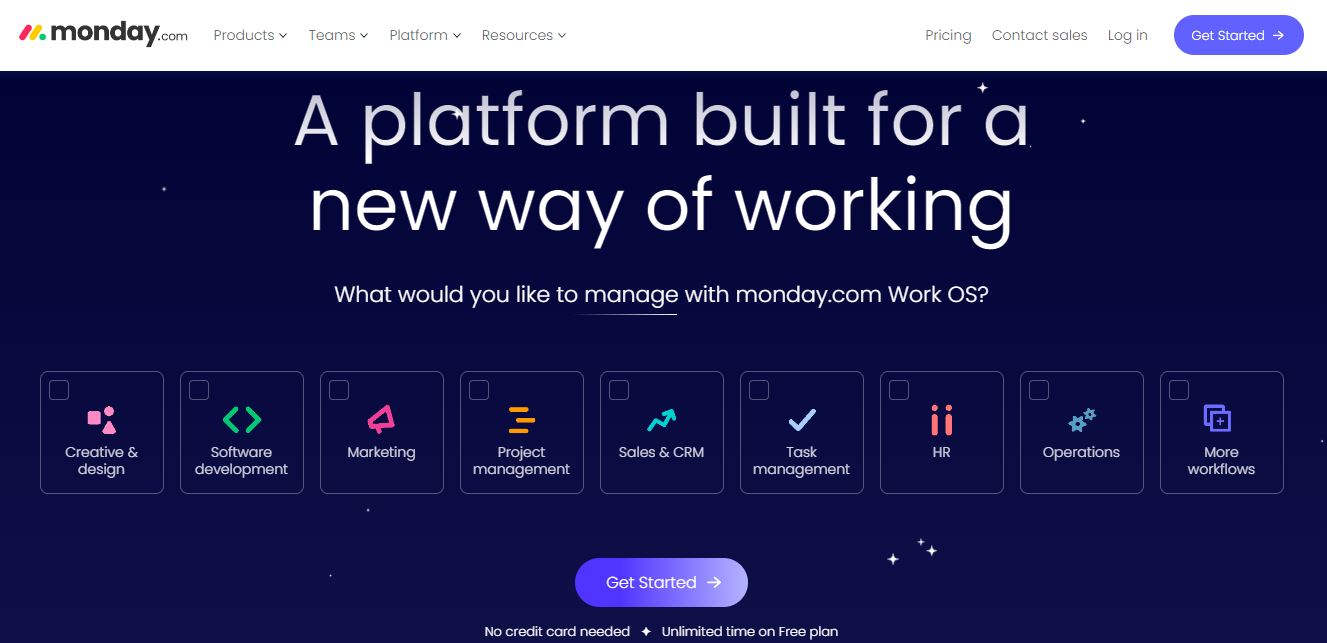 Image source: Monday.com
Features of workforce software Monday:
The following are the key features of this software that help other companies and software to increase their productivity and profitability.
User Interface:
The user interface of this Workforce Software Monday is very unique and interactive. You feel a sense of work and software after opening this website. The website sues different types of graphics that hint towards the various key features of Monday Software. You can reall enjoy the features on its smooth and lag free software and user interface.
Customizable boards:
Monday software provides customizable boards that allow you to organize tasks, projects, or workflows in a certain way that your team can easily understand. This customization is important because every organization or business has its own set of people and this software allows the company to set up it like teh way they want to use. This is the best feature that Monday software carries with itself.
Task management:
You can create and assign tasks to team members. Furthermore, you are able to set deadlines for those particular tasks and track the progress of those tasks. With the help of Workforce software Monday, you can easily handle multiple task management processes. These features of Monday software really help bigger organizations and businesses to manage the workload of their staff without any hesitation.
Collaboration:
On this workforce software, Team members can collaborate in real-time, leave comments, and mention each other. This greatly helps all the team members to stay focused and same page as their other colleagues. This feature instills a sense of teamwork and collective effort in the staff and team. They work with graeter motivation and inspiration to take their business to new heights.
Integration with other Tools and Software:
Monday software integrates with other popular tools like Google Drive, Slack, and Trello. With this vital integration, you can easily fetch and transfer data. Therefore, your task moves properly through different tools for various purposes to streamline your workflow.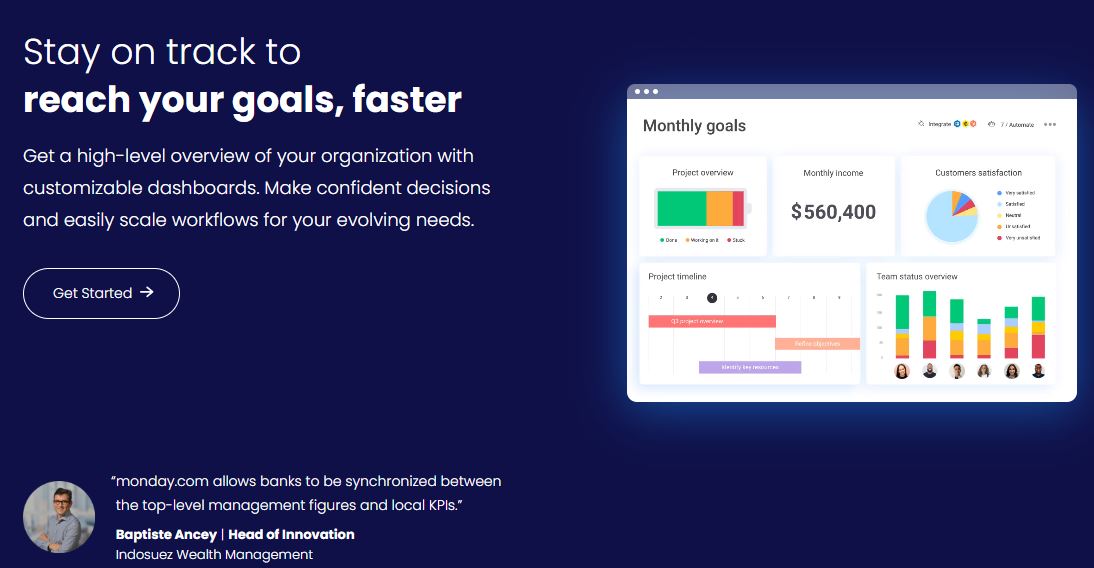 Image source: Monday.com
Automatic Notifications:
While using Monday Software, You can easily set up an automatic notifications system. The main purpose of this system is to keep your team informed about project updates and deadlines. This feature really demonstrates the quality of Monday software.
Reporting and analytics:
Workforce Software Monday further also has a reporting and analytics feature. This feature allows the team members and team creator to track progress and identify loopholes. After a complete understanding of the progress and loopholes, the team creator can make proper decisions regarding his team's progress and steps to resolve those loopholes and issues.
Mobile app:
You can also access Monday software from your mobile device. This application keeps you connected with your team and tasks on the go. Because, You do not carry a laptop or desktop all the time with you.
Top Tier Customers of Workforce Software Monday:
Currently, there are more than 152,000 customers that are availing of the services of this Monday software. There are some big names and companies that are using this software to manage their teams and tasks in a simple and efficient way. Some of these companies are ;
Coca Cola
Canva
Lionsgate
Hulu
Electronic Arts (EA)
Holt from Caterpillar
Genpact
Universal Music Group
Becton, Dickinson, and Company (BD)
These are some big names that are utilizing the features of Workforce software Monday and getting most out of their workers and management staff.
Image source: Monday.com
Price Packages:
Monday software offers several pricing plans to fit different needs and budgets. Let us discuss the details of their current pricing plans:
Basic Plan:
$8 per user per month if you submit it annually or $10 per user per month if you pay the bills every month. This plan includes basic features like unlimited boards, over 20 column types, and basic integrations of Workforce Software Monday.
Standard Plan:
Standard plan can cost you $10 per user per month if you pay the bills annually. Otherwise it will cost $12 per user per month if you pay the bills monthly. This plan includes all the features in the Basic Plan, plus advanced integrations, automations, and time tracking.
Pro Plan:
the Pro plan will cost you $16 per user per month if you pay the amount annually at the start of plan. The same plan will cost $20 per user per month if you use pay the amount every month. This plan includes all the features in the Standard Plan, plus additional security features, private boards, and chart views.
Enterprise Plan:
This plan includes all the features in the Pro Plan, plus enterprise-level security, priority support, advanced customization options, and a dedicated customer success manager. The price of this plan is customizable. You need to contact the official team of Workforce software Monday for setting the price plan.
It's important to note that these prices are based on a per-user basis, so the cost will increase as the number of users on the account increases. Moreover, Monday software also offers a 14-day free trial for all plans, so you can try out the platform before committing to a price plan.

Image source: Monday.com
Advantages of Monday Software:
Following are a few advantages of using this Monday software for your business and organizational purposes.
Another top-class advantage of this platform is, it provides in-depth analysis and reports. This allows the teams to access valuable insights into their productivity, performance, and project success.
Workforce Software Monday offers a user-friendly interface that requires no extra training to start using it. This makes it accessible to teams of all sizes and technical abilities.
The platform provides a high level of customization. As we discussed earlier, it allows teams to modify their workflows to fit their unique needs and requirement.
Another great advantage of using this software is that communication and collaboration among the team creators and team members can be properly managed. This is because of its features like real-time messaging and file sharing.
This software keeps all team members on the same page and reduces the need for external communication tools like WhatsApp, Facebook and Telegram etc.
Workforce software Monday offers powerful project management abilities. The benefit of this software is that it includes proper task tracking, progress monitoring, and deadline management. This is another great benefit of this software that keeps the teams properly organized and on track.
The platform provides visibility into every stage of a project, enabling team members to see who is responsible for what. This software also allows you to track the progress and completion of the project. You can also check the loopholes that are creating hurdles in the path towards success. This is an excellent advantage of this software that points out the worker who is not properly working for the organization.
Workforce Software Monday integrates with many other tools and platforms. This is a great advantage of because you can connect your workpalce with other software like Zapier, Slack, and Google Drive.
FAQs
Is there a free version of monday.com?
Yes. Monday software has an Individual Plan which is specifically for independent professionals. They can keep track of their tasks and work. If you are interested and looking for basic features of this Workforce software Monday, this is the best plan for you.
How much does Monday software cost?
This starts from $24 per month for 3 users and goes up from there based on your chosen plan and team size. If your team is above 40 users, you can request a special discount to get the actual price.
What payment methods do you accept?
Monday software accepts the following payment methods:
All the major credit cards like Visa, American Express, Master Card, Discover, JCB, Diners Club,, Union Pay, and Carte Bleue. You can also access to subscription of Workforce Software Monday with your PayPal account. These payment methods are also dependent on the location of the user. The software official team accept invoices for Enterprise orders that meet a minimum fee.
Does Monday workforce software offer plans for students?
Yes, there is a Student Program on Monday software. This plan offers great opportunities and options for students and student organizations who would like to apply this software in their classes.
Bottom Remarks:
Workforce software Monday is a great platform that can help big businesses and organizations to effectively manage their business. There are multiple features and benefits of this software that are very useful for companies. The pricing plans and packages are quite reasonable and easily affordable by the companies. There are currently over 152,000 customers that are paying to the Monday software company for availing of their features. For more info must visit techbusinesinsider.com