Shahnaz Husain Shabase Natural Beauty Skincare Products
Shabase is a Skin care product from the Shahnaz Husain Brand. This brand is famous for its beauty products and skincare. This is basically a product that is made of sandalwood-based. It might be used as a moisturizer and makeup base. It is especially used in the field of Ayurvedic and natural beauty treatment.
For aromatic properties and smoothness of skin, Sandalwood is used in this skincare product. It will keep your skin hydrated and have some antimicrobial and anti-inflammatory properties in their products.
Introduction and Story Behind Shabase Premium:
In India, Shahnaz Hussain is a leader and pioneer in the field of Ayurvedic and Herbal care beauty treatment. He gained popularity at the global level because of her obligation and work to harness the power of nature that helps to increase the radiance and healthiness of your skin.
She is the 1st woman who was honored with the success award in the history of 107 years. At that time, Shahnaz Husain headed a chain of over 400 franchises in India as well as Abroad. As a brand with a good reputation and rich heritage, Shahnaz continues to attract beauty enthusiasts with its commitment to efficiency, timeless allure, and ability.
As a brand pioneer, Shahnaz Husain has received many national and international awards such as "The Golden American", "World's Greatest Woman Entrepreneur", and "Indian Government Award for Export Excellence". Shahnaz also received 2 significant International Awards from Global Quality Management, in London, for "Outstanding Woman Entrepreneur 2002" and "Quality Excellence".
What are the Ingredients used in Shabase and how much?
In the table below, we enlist all the ingredients of Shahnaz Husain Shabase Premium along with its all ingredients.
| Ingredients | Quantity |
| --- | --- |
| Gulab Jal | 3.0% |
| Aloe Vera Juice | 0.50% |
| Chandan Tel | 0.25% |
| Mahuwa Extract | 0.50% |
| Yashad Bhasma | 5.0% |
| Arandi Tel | 15.0% |
| Cucumber Extract | 0.50% |
| Sudh Gairika | 10.0% |
| Sunflower Extract | 1.0% |
| Gajar Beej Extract | 0.50% |
What are the Benefits of using Shabase?
Shabase is an herbal skin care product that helps you treat your skin naturally and is intended for skincare. Here are some benefits of using these herbal skincare products with their intended ingredients used.
It keeps your skin moisturized and helps to maintain dryness and skin hydration.
If you use these products regularly, then, they will provide your skin with a natural, healthy, and warm glow.
Its product is non-comedogenic does not clog pores and doesn't cause any acne issues.
One of its ingredients, Sandalwood is used in it for calming and soothing properties. It will help to avoid skin redness and irritation.
You can also use it as your makeup base and it helps makeup to stay longer and gives a smooth application.
The natural fragrance of Sandalwood gives a pleasant and overall good experience to its users.
The regular use of this product makes your skin condition better and gives a smoother and softer touch.
How to Use Shabase Products for Different Skin Types?
Now, we will discuss some tips with you on how you can use these products for individual skin concerns.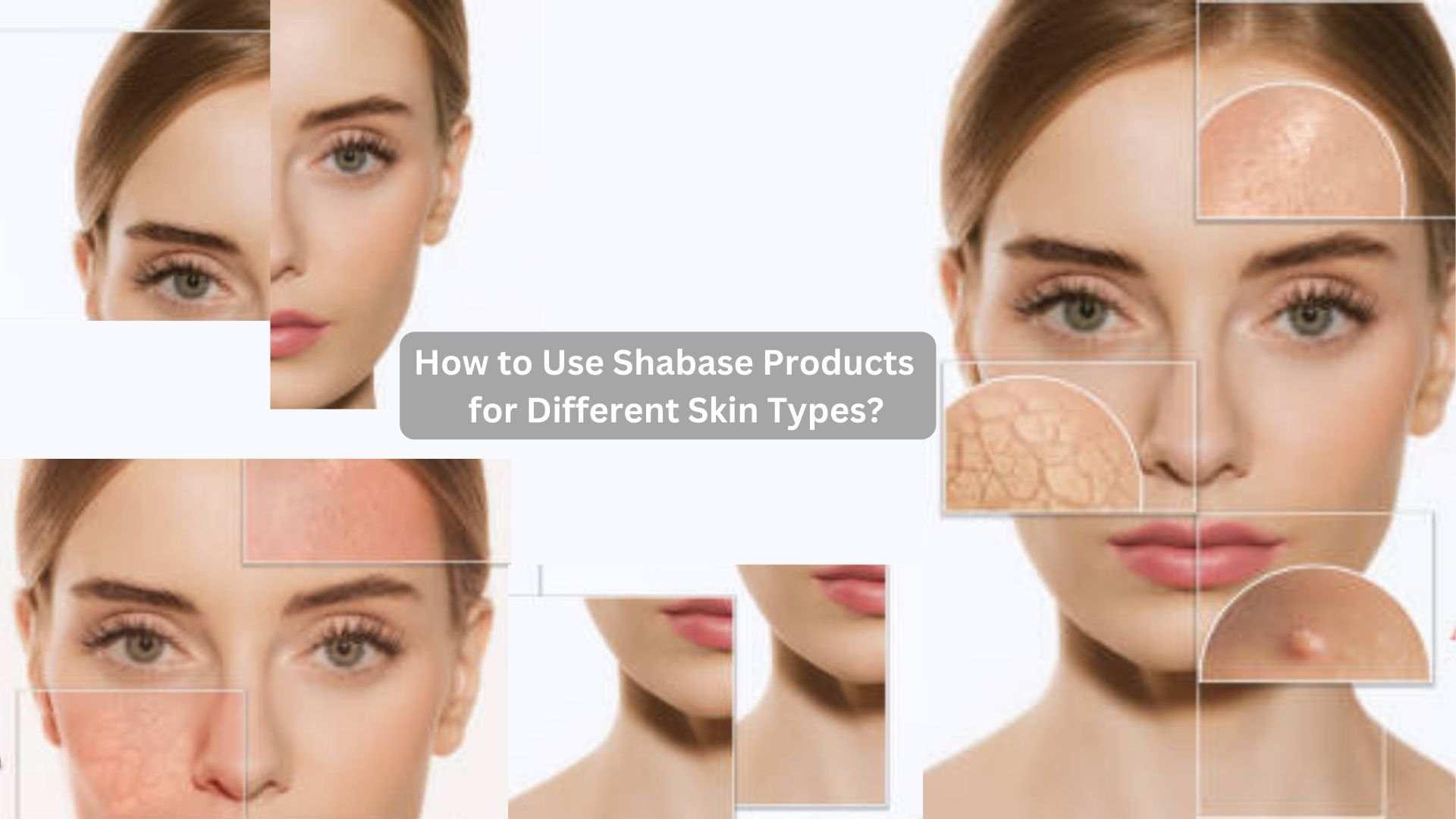 For Dry Skin:
use cleansing to remove all the impurities and wash your face.
Take Shabase cream and apply it to your face and neck.
While applying, special focus on flaky and dry areas.
Use this to hydrate your skin deeply and also as a moisturizing base.
You can also use it before applying makeup or nighttime treatment.
Normal Skin:
First, clean your face properly and clean it.
Take Shabase moisturizer or cream and gently apply it on your face and neck.
Now, massage your skin gently with upward and outward motions.
To get a healthy and natural glow, use this product as a daily moisturizer and makeup base.
For Sensitive Skin:
For sensitive skin, you need to use Mild, Hypoallergenic cleanser.
Take a small amount of Shabase and apply it to your wrist and neck as a patch test.
Wait for almost 24 hours, if there are no signs of irritation then you can proceed and use it on your face.
Apply it to your face, if you feel any redness or sensitivity, wash it off then stop using it.
Acne-Prone or Oily Skin:
Use a cleanser to remove all the impurities and excess oil. After that, wash your face.
Take a tiny amount of shabase and apply it to your face.
While applying, pay special attention to acne or prone areas. Avoid oily zones for excessive applications.
Use it as a targeted moisturizer to address dry patches.
For All Skin:
Remove all the oil and dirt from your face by cleansing it.
Apply Shabase to normal or dry areas of your face sparingly.
To balance various areas of your face, you can also use it as a targeted moisturizer and makeup base.
Shabase – Customer Reviews and Testimonials:
A lot of people use Shabase herbal products and get the best results and give positive reviews and Testimonials. Many people said that they start feeling that their skin is getting more hydrated than last time after the new application. Along with beauty products, this brand also offers many of its products.
How to buy Shabase Products?
You can get the products online and from the authorized retailers. Follow the steps to buy their products.
Open the official website or click on https://shastore.com/in/.
Choose the product or search for it from the search bar.
Click on "Add to Cart" and the product is added to your cart.
Now, click on "Proceed to Next", and further give all the required details.
Your order will be placed and soon you will receive it.
What are Additional things that Shabase offers?
Along with skincare, this herbal skincare brand also offers many of its other items.
Skin:
Herbal
Neem
Saffron Oxygen
Vita-age
Skin Concern
Gold
Chocolate
Pearl
Man
Sun
Diamond
Flower Power botanic
Platinum
Honey
Skin Care
Body:
Cellulite Treatments
Lotion, Oil, and creams mask care concerns.
Body Care -> Lotions/ Creams, Scrubs, wellness, Moisturizers, Hand Cream / Sanitizer, Deodorant / Perfumes.
Body Concerns -> Fairness / Skin Tone, Cleansing, Body Odor, Dryness, Weight Management,
Hair:
Dry / Damaged Hair
Hair Loss / Dandruff / Alopecia
Premature Coloring / Greying
Hair Colour
Makeup:
What are the potential Drawbacks of Shabase?
This herbal premium offers many benefits to its users. But it is important to be aware of the limitations and drawbacks of its products. It should be noted that every person has a different skin type that may not be the same as another one. Now, we enlist some of its potential drawbacks.
It is not suitable for those who have extremely oily skin because it holds moisturizing ingredients.
The sandalwood scent in the products might irritate and overpower those individuals who are sensitive to fragrances.
It might cause skin allergies in those who have very sensitive skin. So, it is important to check it before applying it.
You can use its product as a makeup base and moisturizer because it may not be used for specific skincare concerns such as anti-aging acne, and hyperpigmentation.
Its product is budget-conscious and more expensive than other normal products.
Our Reviews:
Shabase is an herbal product for natural treatments. All of its products are herbal and chemical-free. You will surely feel the results after its first application to your skin. Moreover, keep in mind that everyone has a different skin type. That's why it is important to check first whether the product is suitable for your skin or not.
If you feel any irritation and redness, then stop using it and discontinue the further process. On the other hand, its products are not suitable for people who have extremely oily skin. so, beware while using it for extremely oily skin. Additionally, its product is expensive and cannot be afforded by anyone.